POR
Poor Ovarian Reserve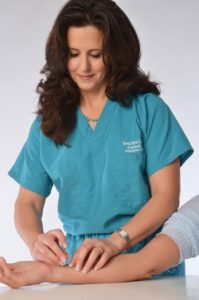 AIM Wellness Clinic provides natural or holistic treatment to women in Westlake Village and Calabasas who suffer from POR, or poor ovarian reserve.  This is a condition in which fertility is compromised due to the normal aging process or disease/injury, reducing normal reproductive potential of the ovaries.  Essentially the available pool of eggs diminishes, which means the likelihood of becoming pregnant is reduced.  Many women have no symptoms and make the decision to pursue IVF or other technologies after months or even longer of failing to conceive despite focused efforts.
Perhaps you have decided that in vitro fertilization or intrauterine insemination are possible solutions to consider, or would prefer a more natural or holistic approach to improve fertility.  Today there are countless women who have overcome poor ovarian reserve and realized their dream of successfully conceiving a baby through holistic therapies including acupuncture, diet and nutrition, traditional Chinese medicine, massage, supplements, and other treatments proven effective for those with POR.  Regardless of its cause, poor ovarian reserve is often treated successfully by balancing hormones, improving nutrition, and reducing stress along with other therapies useful in improving overall health and balancing the systems of the body.
AIM Wellness Clinic Treats POR
If you are in the Westlake Village or Calabasas area and want to learn more about our holistic fertility and customized treatment for POR, we invite you to contact AIM Wellness Clinic today at 805-497-2625.