Menopause is defined as the time in a woman's life when she stops menstruating. This naturally occurs between the ages of 45 and 55. Every woman experiences menopause differently, yet it is common that hormone fluctuations can rage out of control. Peri-menopause can occur up to 10 years prior to menopause and also cause differing symptoms. Many women find some relief with proper nutrition and supplements, or hormone replacement therapy at the advice of a naturopath or doctor.
Signs and symptoms of peri-menopause:
Erratic menstrual periods
Unusually light periods
Very heavy periods
Hot flashes
Vaginal dryness
Mood swings, elevated moods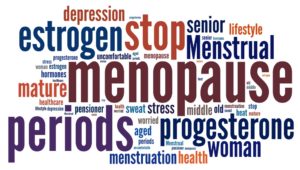 Signs and symptoms of menopause:
Irregular periods
Vaginal dryness
Hair thinning
Possible weight gain
Dry skin
Low sex drive
Night sweats
Hot flashes
Loss of breast fullness
The fact is that all women go through menopause, as your ovaries start making less estrogen and progesterone. Start by scheduling regular visits with your family doctor, and he or she may recommend breast and pelvic exams, mammography and other screenings. It is optimal to have hormone testing done to see exactly which hormone imbalances you have. For women with more mild to moderate symptoms, the use of diet, exercise and the combination of herbal and homeopathic remedies may help to remedy symptoms. Vitamins like Vitamin E can help to regulate estrogen production. Seeing a doctor that specializes in integrative medicine to come up with a plan to meet your personal needs can help to make a more smooth transition into menopause.
Drinking plenty of water and practicing deep breathing or meditation are things that you can start immediately upon experiencing signs of peri-menopause or menopause. Acupuncture can also provide some relief and is commonly used to aid in reproductive wellness. Contact us to learn more about our easy menopause program. For more information on how to cope with the signs and symptoms, contact one of our experienced team members at the AIM Wellness Clinic.