Everything you need to know about olive oil and the amazing health benefits of choosing Extra Virgin Olive Oil
A Little History for Fun
The olive tree is native to Asia Minor (mostly present-day Turkey) and was spread to the rest of the Mediterranean basin nearly 6,000 years ago.  Made from the fruit of the olive tree, olive oil is a staple in the Mediterranean diet. After the olives are picked and washed, they are crushed, which results in a paste that is stirred to release the oil (this process is called maceration). Then it is spun to pull out the water and oil; when the water is removed, you get olive oil!
About the Olive

There are hundreds of different types of olives growing all over the world, and they all have their own distinct genetics and flavors. However, something many people don't know, all olives start out green and turn darker with time (black or purple olives). When the olive is green, it is full of flavor but produces far less oil than black olives, which are particularly oily but have a much milder flavor. Olive oils made with darker olives are more cost efficient but lack the nutrients that the green olives provide. Climate, region, marinating and season are all factors that contribute to the large variety of olives.
Buying Your Olive Oil

Today, there are several different types of olive oil on the market. It is important to know what to look for when choosing your olive oil because olive oils are not created equal in terms of nutrients and flavor. You might find oils labeled as 'pure' olive oil, refined virgin olive oil, refined olive oil, regular olive oil and extra virgin olive oil.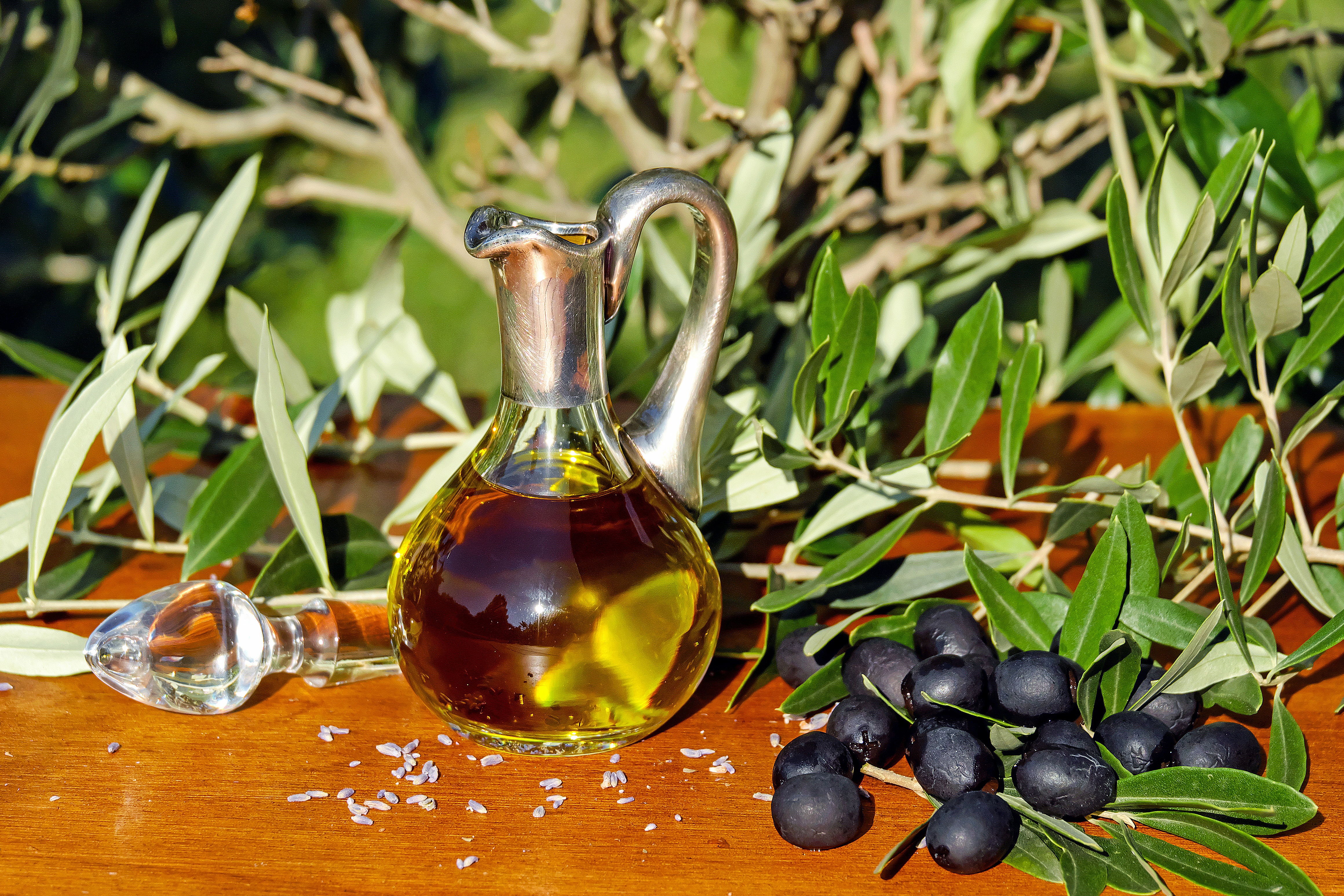 A bottle that reads 'Pure Olive Oil' or just 'Olive Oil,' signifies that these oils have been refined.  Pure olive oil or refined olive oils come from a second pressing or through high heat manufacturing processes. These oils are more likely mixtures of rancid, low-quality oils that have reacted to the high heat manufacturing. The bad taste from the oxidized olives is chemically removed later, resulting in much lower quality and less expensive oil.
Virgin or unrefined olive oil endures an initial pressing, then a second pressing and may also be made with some riper (darker, less nutritious) olives. However, virgin olive oil is not chemically treated to hide any bad taste, so it is generally made with high-quality olives.
The olive oil superstar, extra virgin olive oil (EVOO), is cold pressed and does not use chemicals or high heat manufacturing processes that can destroy the fatty acids and nutrients in the oil. EVOOs are known for improving health & longevity, research shows that extra virgin olive oil is the most nutritious of the olive oils and therefore provides the greatest amount of health benefit when compared to the other varieties.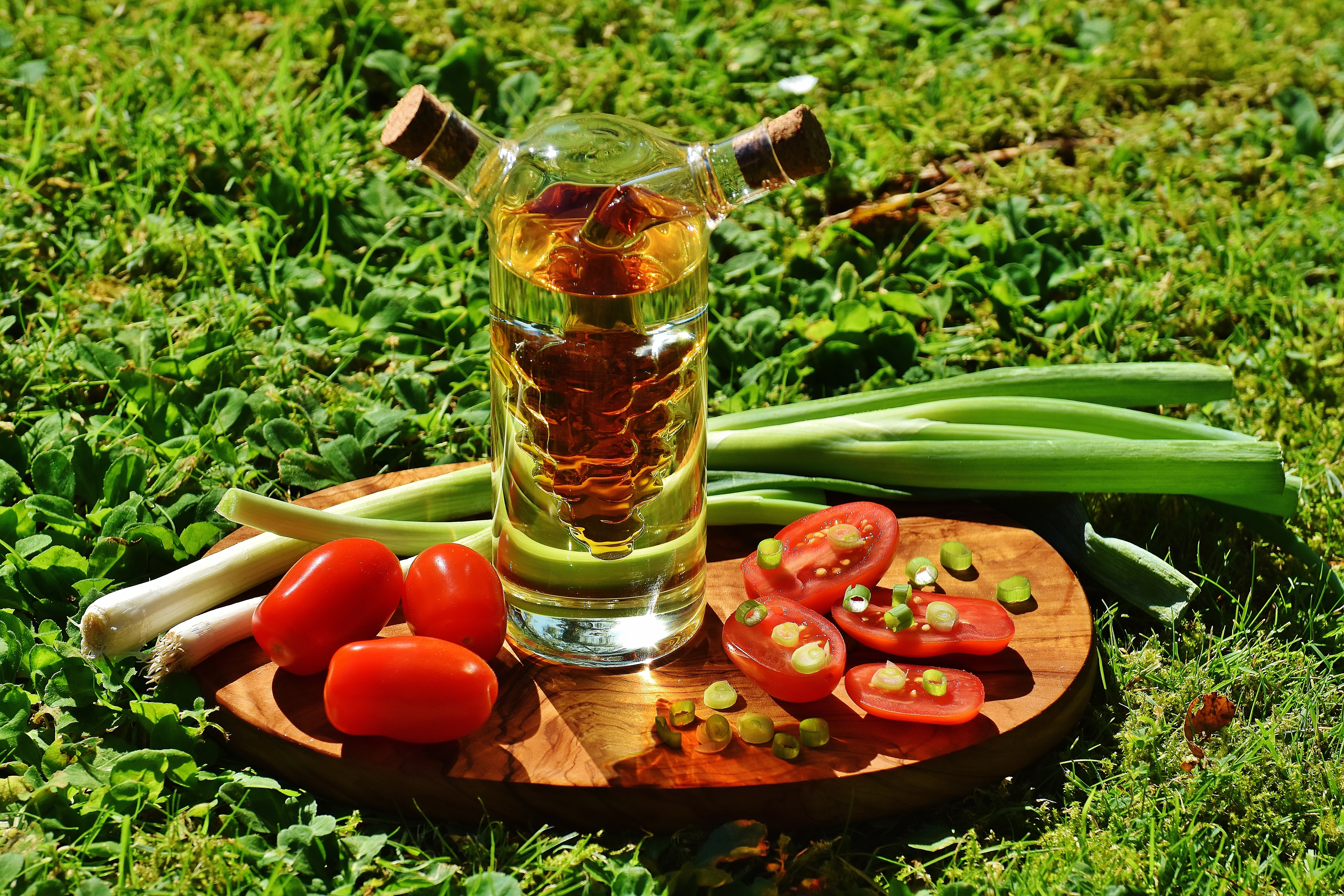 Extra Virgin Olive Oil has Three Categories of Taste:
Delicate: Made with olives harvested in the later stages of ripeness (mostly the black olives). The oil will have a smooth and buttery taste, you'll notice a fruitiness in the nose, no bitterness at all, and a slightly peppery finish. Delicate EVOOs make excellent all-purpose oils because of their versatility.
Medium: A medium EVOO is made with a combination of olives harvested in both the early and mid-stages of harvest (both green & black olives). This oil offers a fruity taste, a grassy scent, and a peppery/spicy finish.
Robust: Made with olives harvested in the earliest stages of harvest, robust EVOOs are made with olives packing the biggest polyphenol punch. A robust EVOO offers a fruity scent, a bold flavor, a balanced bitterness, and a very prominent peppery finish.
WARNING: You need to be cautious of what you are buying and the quality of the oil! I was shocked to find out that 70% of the EVOO sold at major supermarkets are not as nutritious as you might think. Many manufacturers 'water down' high-quality EVOO with other oils to produce these fake EVOOs that are similar in taste and look are lower in healthy antioxidants and fatty acids.
Tips for Picking a High-Quality EVOO:
Find out how it is made.
Always look for 'cold pressed'. Avoid oils that have undergone any chemical refining or processing.

Check the label.

Look at the harvest date (not the packaged or manufactured date). An unopened bottle of high-quality EVOO can last for over a year (from harvest) if it is stored away from heat and light. An opened bottle should be used within a few months.

Check the ingredients. Be sure that a high-quality EVOO was not diluted with other oils.

Look for EVOOs sold in a dark bottle.

A dark green or black bottle will shield light and can help to protect the oil from oxidation. Avoid clear or plastic bottles.    
When determining the quality of EVOO, it can be hard to trust the bottle or the label alone.
The best way to learn good olive oil from bad is to use your senses:
Before you even taste the EVOO, smell it. A high-quality oil should have a much more pungent aroma that is reminiscent of fresh olives, grass, bananas or other fruits.  A poor quality oil will remind you of hay, cardboard, mud or mustiness.
Bitter is better. The taste of high-quality EVOO, much like coffee or craft beer, is usually an acquired taste.

If it is a true EVOO, it should look cloudy after having been in the refrigerator.
Extra Virgin Olive Oil is Famous for its Health Benefits.

It contains mostly monounsaturated fatty acids (which are healthy fats) it is rich in antioxidants (one of the best antioxidant foods you can have) and it is packed with vitamin E, (which promotes healthy skin, and is a powerful antioxidant).  Some people even call it the healthiest fat in the world.
Among its extensive list of phytonutrients, which are nutrients found in fruits and vegetables and are very beneficial to your health, the polyphenols are the most powerful. Polyphenols act as antioxidants, which helps prevent disease by protecting and nourishing your cells so they function optimally.  
Oleic acid is a fatty acid found in olive oil, which is widely regarded as heart healthy and capable of fighting oxidative stress. Oxidative stress is an imbalance between the production of free radicals (unstable atoms that cause damage to your cells) and the ability of the body to counteract or detoxify their harmful effects through neutralization by antioxidants.  What this means is when your body is under stress from the environment or from the foods you're eating, harmful unstable molecules can enter the cells and take molecules from your healthy cells to balance it out, which damages your cells.  Antioxidants create a balance by giving up molecules to the free radicals and therefore decrease the damage.
To Simplify, here is a list of some of the benefits of consuming high-quality EVOOs:
Heart Healthy and Anti-inflammatory

Fights Against Cancers

Weight Management

Supports Brain Health

Improves Mood Disorders and Depression

Contributes to Healthy Skin

Helps Lubricate Joints

Helps Balance Hormones
Note: Remember when I was telling you about the fake EVOOs?
Some of these fake EVOOs are 'watered down' by soy bean oils and genetically modified canola oil, which is highly inflammatory and linked to heart disease…the exact opposite effects of consuming a high quality extra virgin olive oil (WHAT A MEAN TRICK).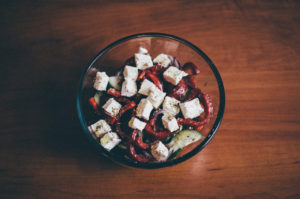 How Much EVOO Should you Aim to Consume Daily in Order to Benefit Your Health?

The answer: It depends. There are a lot of factors to consider when deciding how much EVOO you should consume daily, but anywhere between 2 – 4 tablespoons a day.
One tablespoon of extra virgin olive oil contains:
120 calories, 14 grams fat (9.8 of which is monounsaturated) and zero sugar, carbs or protein
Here are just a few of the ways to incorporate EVOO on a regular basis:
As part of a sauce

To sauté vegetables


As a finish or condiment

As part of a marinade for meat or seafood

Drizzled over cooked pasta or veggies

As part of a vinaigrette for salad dressings

Mixed with herbs to use as a bread dip

Drizzled over toasted garlic baguette

A replacement for butter in dessert recipes

Mixed into mashed potatoes with your favorite seasoning
Tagged: wellness, acupuncture, health, healthy living, healthy habits, Olive Oil, Healthy Fats
[/cherry_col] [/cherry_row]