Flu season is upon us – boost your immune system now to fight off those bugs!
Every year in the United States, there are more than 1 billion upper respiratory tract infections and colds. The common cold and flu can occur at any time of the year but are most prevalent between October and March – fall and winter months. 
The flu vaccine won't protect against every strain of the flu.  So, whether you get a flu vaccine, or not… it is still so important to keep your body strong so it can fight off those BUGS!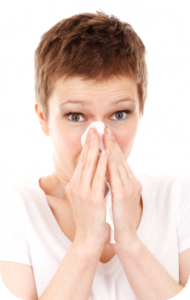 How can you boost your immune system?  Taking steps to be proactive will be the key to staying healthy.
Studies show Acupuncture can boost your immune system to fight off colds or the flu. It does this by strengthening the respiratory system and reducing stress. Acupuncture builds up the immune system by stimulating the production of white blood cells, red blood cells, and your T-cells, allowing it to function better, and use its own defense to fight germs. The effects of acupuncture can last up to one month with just one treatment.
At AIM Wellness Clinic, we incorporate cupping therapy into our immunity treatments.
Cupping is based upon the Chinese Medical Theory, which believes that the body is invaded by external pathogens, essentially creating a pattern of ailments we know today as headaches, colds, body aches, joint pain, abdominal pain, and infertility.  Unlike many other types of treatments, the process of cupping is able to help dispel cold and release external pathogens.  The benefits of cupping are numerous and include relief of flu symptoms, congestion, and muscle stiffness.
We recommend herbs or supplements to optimize the immune system.  The Wellness Formula contains over 30 herb extracts, vitamins, and minerals that support different aspects of the immune system!  Start increasing Vitamin D and add an Oregano Oil supplement if you start to feel 'off' or really need a boost!
To keep you sharp, strong and feeling good during the cold and flu season this year, we have created a special "Boost Your Immunity" program just for you. 
Boost Your Immunity with Acupuncture
If you want to avoid getting sick this season, don't wait until it's too late!